Search by tag «alcohol»

Entries found: 4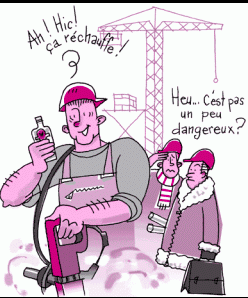 Afder : Séminaires de prévention à la dépendance (alcool, drogues, comportements) et aux enjeux de la consommation excessive sur les lieux de travail.
Pensez-vous que la sécurité, le rendement et la qualité des relations en entreprise puissent être affectés par la consommation de vos employés ?
I support the 5th Awareness Week on Alcohol Related Harm: What can you do?
The Awareness Week on Alcohol Related Harm (AWARH) was initiated in 2013 by a group of like-minded organisations following three Roundtable meetings on an integrated approach to alcohol-related harm.
During the roundtable meetings, the organisations agreed that an EU-level awareness raising campaign should be established to provide information on the detrimental effects associated with alcohol consumption. The first AWARH was held on the week of 13th May 2013 under the Month of the Brain.
Mixing alcohol and energy drinks increases the urge to drink more than drinking alcohol alone, according to a new study from Australia. The findings suggest that people who mix alcohol and energy drinks may end up drinking more alcohol than they intended, said the study's lead author. Lire cet Article
 More and more people are struggling with prescription painkiller addiction in Hamilton. According to statistics obtained by CBC Hamilton from the Drug and Alcohol Treatment Information System, admission rates for local opioid withdrawal programs are now the second highest in the province, behind only northern Ontario.
In 2002, one in ten people who entered a withdrawal management program at St. Joseph's Healthcare were opioid patients. By 2012, it was one in four. But these people aren't just numbers — each of them has a unique story about just how they fell into addiction and their journey out of it.